Music is a Universal Language.
Drums and Percussion Unite groups and Create a feeling of
Joy and Wellbeing to all who play them.
Drum Circles can create this environment almost instantly.
About Drum Circles.
Our Drum circles allow groups to play in an improvised way creating there own rhythms and building a groove, there is no leader as such but a facilitator who's job it is to make the music making process and building a steady rhythm easy for the group, while making sure every one has an idea of the ways in which different instruments produce different sounds and how to be comfortable using them.
Once this is achieved the group can play together and enjoy the rhythms and sounds there producing.
There is opportunity for people to be creative and experiment with lots of different instruments in an environment like this, rather than concentrating on one rhythm on one instrument as some people would have to do in a workshop situation to arrange a set rhythmic arrangement. Which is not a bad thing.
I would always say to people its important to learn some traditional rhythms and arrangements if they are going to attend a regular drum circle, this helps people to understand how rhythms can work together and form melodies and grooves in a group..
However for a drum circle situation people are allowed the opportunity to play more freely and improvise to make there own rhythms and grooves.
Some rhythms games, body percussion and guided imagery are used to get the group warmed up and having fun..
After a short while some simple rhythms are introduced to give a steady pulse for people to play along with, soon the group is playing together and creating there own music.
Drum Circles are a great way for groups of people to enjoy working as a team and work on something new and unique, creating there own rhythms and music almost instantly..
Drum circles are suitable for all groups wanting to enjoy playing drums together with out the elements of teacher and student and learning difficult stuff. It's all about creating an environment for people to play in a free and improvised way.
The main purpose of a drum circle is to Unite groups of people and creating an environment for them to enjoy playing music in a Fun and Recreational way.
Prices are based on group sizes and the travel distance to venue..
Please email or call for a price.
Music is a Universal Language, Drums and Percussion Unite groups and create a feeling of joy and wellbeing to all who play them.
Drum Circles are an event that all groups can participate in, everybody has the ability to play rhythms, its a natural thing, there is no need for previous experience or training to enjoy the benefits of a Drum circle.
In a Drum Circle all participants are equal and united.
Team Building Workshops

" AKROWA "
Interactive showcase of
PERCUSSION, SONG & DANCE
Akrowa events are suitable for Schools, Community events, Festivals,
Corporate Team Buiding, Community Groups

Schools

Team Building
Relax, Energize & Explore Recreational Music Making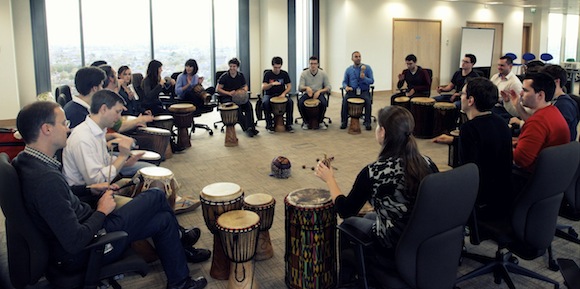 We provide events which are inclusive for all ages ranging from junior infants in a school to senior citizens in a community group..
According to Remo Belli, the Founder and CEO of Remo drum and percussion instruments, Inc.,
"It's time to stop thinking of the drum as just a musical instrument. Start thinking of the drum as a recreational tool for every family, a wellness tool for every retiree, and an educational tool for every classroom."